In this blog and Masterclass Training, we share 5 things NOT to do If you want to achieve your Resolutions in 2020.
According to research carried out by Strava, 19 January is dubbed "Quitters Day", but this year things can be different!!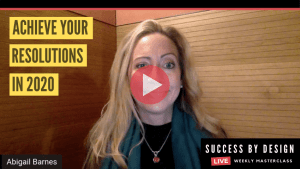 5 things NOT to do if you want to achieve your resolutions in 2020
1: Don't have too many resolutions
Too many resolutions will impact your ability to achieve them, it's a recipe for confusion, overwhelm, and frustration which leads to the temptation of distractions and procrastination.
The human brain is designed to want to achieve, it's also designed to crave simplicity. 
2: Have a plan for how to achieve them
Results come from taking small continuous actions that create a compound effect and increase your chance of achieving your resolutions. A resolution without a plan is just a dream.
3: Have a clear reason why/future vision
If you want to motivate yourself to change some of your habits and actions in 2020 then you will need to get crystal clear about why you want to make these changes.
Ask yourself these questions:
What is your vision for the future?
How will achieving these resolutions change your life for the better?
What does achieving these resolutions mean for your life?
4: Have accountability to keep you on track
Accountability accelerates performance and increases your chance of success from 65-95%.
A study into the impact of accountability on performance carried out by The American Society of Training and Development (ASTD) in 2017 found that there is a 65% chance of someone completing a goal if they are accountable to someone else.
That figure rose to a 95% success rate when an accountability appointment/deadline was created.
Who can you keep accountable to? Who can you set an accountability appointment with?
5: Don't have resolutions you are not committed to achieving
It is common for people to be interested in creating change, it takes commitment, discipline, and a willingness to take continuous action until a goal or resolution is achieved.
In research carried out in 2002 by the Journal of Clinical Psychology, they found that approximately 54% of people who make resolutions to change something in their life fail to last beyond six months, and the average person makes the same life resolution 10 times over without success.
The main reason for this is a lack of commitment, is less about knowing what to do and more about not being committed to do whatever it takes in order to achieve a resolution or goal which brings us back to point 3 without a clear why/future vision there is no compelling reason to stick to a resolution and to change.
Use our free online group The 888 Community share your resolutions and find an accountability buddy
Let's get social, find us on Instagram
We'd love to hear from you, is your business ready to consider a new approach Contact Us.