HELICOPTER STRATEGY SESSION
Have you hit a road block?


We know how it is:
  – You know what to do, but don't have the right plan
  – You/your team don't have time to stop 
  – The more you try to keep going the worse it's getting
A Helicopter Strategy Session is led by you.
There comes a time in the life cycle of every fast-growing scale-up/startup when they need to slow down (review and strategise their next phased) to speed up.
Becoming aware that what got you to where you are today, won't get you to where you want to be tomorrow.
You and your team can't keep doing roles that are not your zone of genius, the business has grown and it's time to take the next step.
During our time together (1-Day Workshop) we will create the sales/marketing/growth strategy that your business needs to take it to the next level, and discuss ways you could implement it depending on your budget/resources and strategy (outsourcing, freelancers, consultants and project work).
Our 4-Step Approach.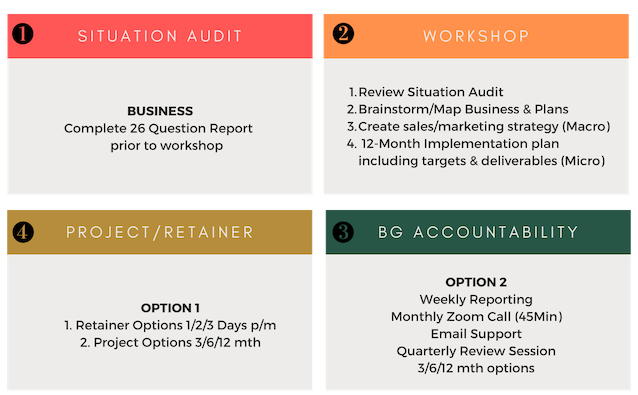 We work with ambitious, driven, business owners who don't have time to waste and are on a mission to scale and grow their business without burning out or losing/failing to attract top talent.
If that's you then let's book a call today to discuss when we can get started.
Workshops can be held at our offices or yours (location dependent).
I booked a Helicopter Session to get clarity on my marketing strategy and business priorities. My biggest takeaways from our time together are that I now have clarity on marketing strategy and business priorities!

The most surprising and transformative part of our time together was understanding the elements of work/life balance and how they can support the business goals

My biggest take away from the session in addition to what I've already mentioned is that I now have a personal time schedule I can use to improve my work/life balance.

I'd  definitely recommend Abigail - she's great!

Adam Billing