"We all have the same 24 hours, so how come it feels like I don't?"
We hear you, the pace of life has never been faster, technology is a much a hindrance as a helper. One minute your phone is helping you connect with friends and family and the next minute it's beeping with emails, messenger alerts, commands to breath and reminders to get up and take a walk!
You won't believe how many times a week people tell us that their life feels like a hamster wheel, and we get it…we've been there too.
Which is EXACTLY why we created the training we offer.
All of our training is based on a foundation of The 888 Formula which is a cutting-edge, holistic approach to work-life balance. A practical framework that helps individuals audit their life and identify areas for development against 3 key metrics.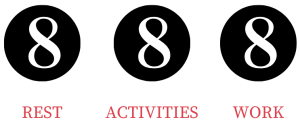 Below are 8 signs you need the 888 Formula in your life do you identify with one or more of them?
You regularly fail to get as much sleep as you need
You try to catch up sleep at the weekends
You drink more than 4 cups of tea or coffee a day to stay awake
You have no time for friends, family, relationships or hobbies
You work more than 50 hours a week (but know you could be more productive)
You have no time for life admin and end up paying bills at midnight
You don't have time to visit the doctor, dentist or optician
You feel like you live on a hamster wheel with no sign of escape
If you do then click here to find out more about the 888 Formula and how it's helping people regain control of their time, relationships, health, career, and happiness.
#888formula

Includes an 888 Time Audit & 888 Time Planning Session as well as 30 Days Accountability Support.
We'd love to hear from you, is your business ready to consider a new approach Contact Us.
If you want to come to an event – check out what's going on in the 2019 Calendar.
Let's get social, find us on Instagram, or join our free online Community Success by Design and share your thoughts with us.