WELCOME TO THE TRAINING
Over the next 7-Days let's go on a journey together - to visit a place I like to call possibility island. 
A place where you can be, do and have whatever you want.
During our time together I'll invite you to leave your current beliefs about time & what's possible for someone like you at the door as you get on the bus to our new destination.
...don't worry if you want to get off the bus at any time you can and your old beliefs will be waiting for you to take them home.
...if you don't get off the bus they will stay where you left them and you'll be able to move forward in your career, business and life with new and empowering beliefs about time and what's possible for someone like you!
Over the next 7 days you'll learn how to use our simple 5-step process to find your missing hour a day & turn your time into productivity.
Audit your time to unlock more
Analyse your audit to identify what's stealing your time
Accept your current situation in order to elevate
Make an agreement with yourself to become the person you know you can be
Plan the actions you need to take to create the lifestyle you want to be living
And so much more!
It's Your Time my friend, so let's get started!!!
What we cover in the 7-Day Challenge Training:
DAY 1: TIME: THE LIE OF NEVER ENOUGH
DAY 3: TIME: WHAT'S POSSIBLE FOR YOU
DAY 5: TIME: LET YOUR PROGRESS BE YOUR PROOF
DAY 7: IT'S YOUR TIME*
You can complete this program over 7 days or binge the videos & complete the homework at your own pace.
*Day 7 was recorded on the 8th day of the challenge hence we called it day 8, lol
Hello
Welcome to the 7-Day Challenge.  My name is Abigail Barnes and I will be your trainer for this Program.
DOWNLOAD YOUR 7-DAY TIME TRACKER
Step One of our 5-Step process (turn your time into productivity) is AUDIT your Time.
Below you will find two different format documents that you can use to audit your time for 7 days. Try one, try both - use them as your starting point to create your own...just get tracking - what you learn is your key to unlocking more time!
In 2021 I recorded this step-by-step Training walking you through how to do a 7 Day Time Audit it weeks before my Instagram got hacked and we started a new account @successbydesigntraining
Click here to book a 1:1 Time Audit Session with me (includes 30 days of support).
Email: enquiries@successbydesigntraining.com with any questions.
"Reading Time Management for Entrepreneurs & Professionals has been a game-changer. Since reading the book and carrying out the activities suggested, I have really started to notice how and where I spend my time. I was asked about my biggest takeaway by a friend and would have to say it's realizing first-hand that although I "achieve a lot" on my to-do list, there is SO much more I could do, and get done if I got how and where I spend my time under control. Highly recommend it for anyone - whether at the "I know my Game" or "What game?" level. Thanks, Abigail for putting this together - it really is amazing how easily and unconsciously we naturally waste the precious time we have available to us." Matthew Theijssen
"Abigail's dedication to driving people's awareness of time and the value of it is inspiring. I bought Abigail's book Time Management for Entrepreneurs & Professionals and was impressed by the practical elements that you can implement and true life reflections. Her 888 Formula is a great concept to ensure that we reflect on what is serving us to support productivity and fulfilment. On her recommendation I ran a time audit on my week and was able to reduce the areas that were not serving me and ramp up the ones that were. Leading to more prospect engagement, sales and greater peace of mind to know that I have clear structure in my life. Thank you. This is a must read!" Melissa Curran
KEEP ACCOUNTABLE - JOIN THE CHALLENGE GROUP

---
WORK WITH ABIGAIL 1:1 SUPER CHARGE YOUR SUCCESS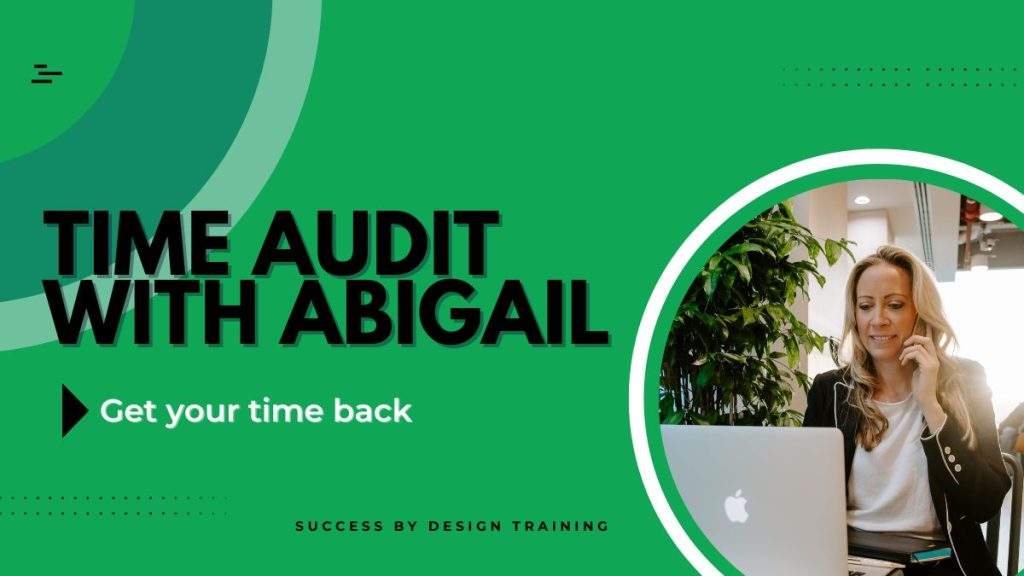 Time Audit With Abigail
Book a 1:1 Time Management Coaching Session with Abigail Barnes.
 - Turn your time audit into a 30 day Time Management Plan.
 - Go from overwhelmed to organised
 - Find a spare hour a day to use for whatever you want!

---
SOME PRAISE FOR SUCCESS BY DESIGN TRAINING
Having been in business for 16 years, one of the greatest challenge has always been time management.
Having attended Abigail's workshop, along with one of my managers, I can only emphasise how well her workshop gets across what we CAN do.  We do not have to be a slave to time, we can, by using Abigail's teachings, make time work for us.
I had the privilege of meeting Abigail before she had written her book and was still in the corporate world.  Abigail is true testament that if you implement what she has learnt, and now teaches, you will move you career, business and life in the direction of where you want to get.
Thanks Abigail, to all that read this, take the time to attend Abigail's events, it's a no brainier.
Paul Wilson
I had the true pleasure to take part of Abigail's Workshop on Lead Don't Follow. The content around Self-Leadership, Lifestyle and Legacy was really thought-provoking and inspiring. It made me reflect and at the same time gave me pragmatic tools in order to get into action after the session. What made the real difference was Abigail´s way of delivering the workshop. It shows she really enjoys what she does, this is contagious. Abigail keeps the audience in her hands throughout the entire workshop. She does this via her authentic style, daring to display vulnerability and shares very openly what made her to what she is today. The audience in the workshop must not have been easy to impress, consisting of very experienced international trainers and coaches.
I have also experienced Abigail is a great coach, showing true interest in others development with clear and precise questions.
I am happy to give Abigail my best recommendations.
Thomas Kronberg
Abigail Barnes and her 888 formula gave me one of the biggest 'ah-ha' moments that I have had in recent years. As an event producer and owner of a speaker bureau, that doesn't happen very often, but Abigail's story connected and resonated, not just with me but with every audience we put her in front of. I have worked with Abigail since 2020 on various events that we have run and we always get high scores for her in our feedback. I have also guested on a couple of her shows. Abigail is always an absolute pleasure to work with, is popular with our audiences and her messaging is quite literally life-changing. I wouldn't hesitate to recommend her.
Lucy Brazier OBE
All through lockdown Abigail was this bright shining star that would lift my spirits on some very dark days. Just hearing her voice on her daily updates and her enthusiasm and care for all that were listening. Couldn't always get to the sessions but just knowing she was there was so uplifting and all her positive energy and compassion helped me so very much. When I saw that Abigail was one of our speakers at the PA Hub Conference Liverpool I was so excited... I could get to see her in person! And she didn't let us down. Still continuing with the same message about our time management and the magic 888 Formula. I was particularly pleased that Abigail also had the whole room concentrating on our breathing ... one of her tips I was very grateful for during lockdown. Thank you so much Abigail for being such an Inspirational, Amazing Lady! I do hope I have the pleasure to meet you again. Wishing you continued success as you so very deserve. THANK YOU Sue❤
Sue Morton