The 888 Formula is a cutting-edge, holistic approach to work life balance. A practical framework that helps individuals audit their life and identify areas for development against 3 key metrics: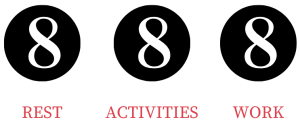 1.  The optimum way to breakdown a 24 hour day based on science and cultural norms

2.  Instant high level snapshot of present day

3.  The gateway to creating better work-life balance
The human body needs sleep for a variety of different reasons ranging from cell regeneration to allowing the mind to process and recalibrate the activities of the day.

When we sleep our bodies go through 4-6 sleeps cycles per night depending on how much sleep an individual needs/how much sleep they can get. A sleep cycle is divided into 4-phase

This part of the formula also looks at cutting edge research into activities like micro breaks/mindfulness & meditation as forms of restorative rest.

CLICK HERE for more info about the importance of sleep and use our sleep calculator to work out what time you need to go to bed to feel the most rested.
This part of the formula covers everything an individual does on a daily basis that isn't related to Rest or Work, it is the jam in the 888 sandwich.

People are shocked when they realise that these 8 hours are divided between time spent food shopping, cooking and eating, washing of all kinds (clothes and body) beauty/skin care routines. Time for relationships, personal time to journal/read/exercise, time to care for pets. Time to manage personal/life admin, time to study, attend networking and training events.

As well as time for hobbies and the daily commute and let's not forget time for Netflix and chill.

CLICK HERE for more info about the training we offer to help you maximise your time as well as organisational tools and techniques we recommend.
For the last few hundred years society has traditionally operated a 5 day week with an 8 hour working day model. In recent years some industries/sectors have adopted a more flexible approach to work based on the premise, that as long as you get your job done, then the logistics are up to the individual.

All training in this area of the formula focuses on sharing ways to improve productivity (working smarter, not harder).

CLICK HERE for more info about the kinds of training we offer to help you improve your Time Management and become the most productive person you know.
Everyone gets the same 24 hours, but they don't have the same beliefs, habits and actions, our training is designed to addresses this.
Got a question or want to find out how you/your organisation can work with us...
Abigail changed my life - 8 months ago I was existing day to day, going through the motions. In January I attended one of her events and it went from there. It was like a switch was turned on inside me and from that day EVERYTHING in my life has changed from relationships to work, health and happiness. I can not speak highly enough of how awesome she is. If you ever get the chance do yourself a favour attend one of her sessions!

Andrew Wood
Love Abigail's 8/8/8 principle, been living to work and now I'm ready to live!

Rebekah Roy
This session helped me identify what business activities I need to focus on increase my revenue, and find more time for hobbies & exercise.

Kate Lexler
Since I started my accountability sessions I've felt less anxious & overwhelmed by my to-do list. My task management is on point and my revenue line is going up nicely.

James Orisha
The 888 Formula that Abigail shared was super simple and really easy to organise life around. Everyone is different, and different people need different amounts of sleep. leisure time and work. Abigail made that clear, whilst simplifying things just enough to help people make real changes. Speaking after her was an absolute pleasure. So much of the talk was relevant to taking real action (rather than just sharing info for the sake of it) and was backed up with some pretty inspiring ideas and experiences too. I'd definitely recommend her as a speaker!

Chris Pinner