THE TIME MANAGEMENT PODCAST
My name is Abigail Barnes I'm a productivity coach, global speaker, Time Management Author & Award Winning Entrepreneur on a mission to share the 888 Formula with the World & to remind you that it's your time!
Leave it to me to bring you new time management tips, tricks, tools & strategies.
To introduce you to guests, research and case studies from around the world & to give you a simple 5-Step process you can follow to up level your productivity, achieve your goals and create a life that exceeds your wildest dreams.
The audio show is available in Podcast format on more than 16 different online platforms. CLICK HERE to subscribe & listen on your favourite.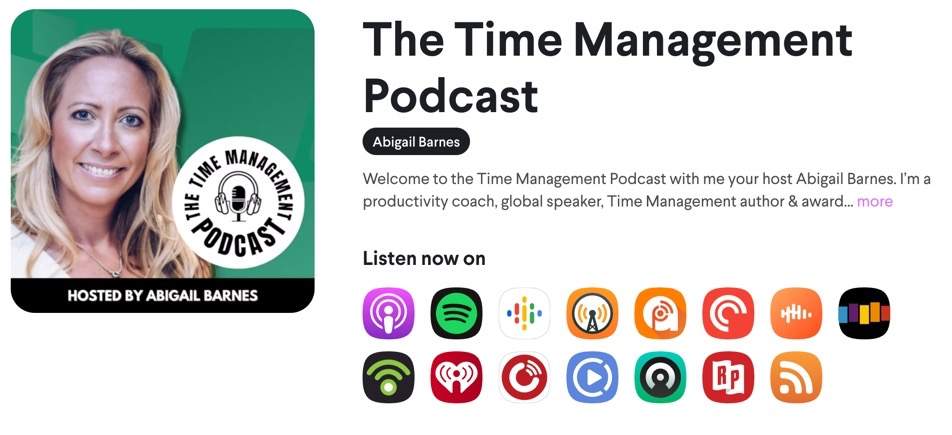 The video episode is available on YouTube CLICK HERE to subscribe to & get notified (new episode uploaded weekly).
🎧 Listen now - Click below ⬇️
🤩 Watch the episode on our YouTube Podcast Channel.
Subscribe to get notified!
Available on all podcast platforms including:
Follow & Subscribe to get notified about new episodes.
⭐️⭐️⭐️⭐️⭐️ Some Podcast Reviews ⭐️⭐️⭐️⭐️⭐️
Given all of the previous content Abigail has produced and shared with the world, I know this podcast will add significant value to the way I work. Thank you.

Simon
So inspiring to hear how Abigail turns her own personal stories into lessons we can all learn from. And her take on procrastination is so helpful and so loving. I am not a flawed person who procrastinates I'm just someone who has a story around perfection. Love it.

S kohli Lal
Really enjoyed the insights presented in this podcast.

Mike
Fantastic Podcast, brings together the issues in a way we can all relate to.

Aqshar
Loving the Podcast please release more soon.

Listener
Abigail Barnes provides amazing interviews on timely topics to help others get control of their time (and their mindsets)! The interviews are so interesting, and the tips provided are immediately helpful. Thanks, Abigail - I love this podcast!

Sandy
I listened to your first Podcast Conv with Lucy Brazier. It was really interesting. I really enjoyed it.

Listener
Hi. I'm loving your Podcast ❤️

Listener
This podcast with Lucy Braizer was amazing. People like me got taught the ways how Lucy was treated, I never felt comfortable in those type of work environments. What an amazing story she would had to share, thank you.

Michael
Hi, Abigail - I just listened to the podcast... excellent interview with Lucy Brazier!

Listener
We love your voice and it is so inspiring to listen to your interviews and thoughts. Girlpower forever.

Pony L0ve
Just Perfect !! brilliant ideas Abigail !!  Thanks for sharing this important area of our life..Best Wishes Rod 🙂

Rod
Listened to the first on this morning. Excited to get stuck in!

Kayleigh
The Time Management Podcast is a Great! So inspiring and includes some really great advice that has genuinely helped me to better manage my time. Would definitely recommend.

Kerry
A great podcast delving into optimising people and time.

Carly
Abigail explains time management concepts with clear and tangible examples. Loved the episode with Lucy Brazier, really insightful and full of great takeaways on effective use of 'golden time', colour coding your timetable and time boxing, just for starters. Lots to implement already, really looking forward to what comes next!

Reba
I've really enjoyed Abigail Barnes' podcasts especially the one about procrastination. Already making process on my projects and in my personal life because of some of tips she shared. Looking forward to more!

Helen
Excellent Podcast Abigail. Great to hear Keith from Goya. The biggest takeaway is the live for today, the past has gone and the future is unknown. Today is here. Use the time wisely.

Andy
The way in which Keith is able to explain his position on the work life balance is truly inspirational. It is so important as you say in your 888 life breakdown that you make time for yourself in order to regenerate your batteries. It also helps to be able to talk to people away from your work environment who are skilled in Time Management because they can help in prioritising the way in which you look at life. Thank you Abigail for such a thought provoking discussion with Keith.

Richard
This podcast is a must-listen for anyone looking to supercharge their productivity and achieve their goals. Abigail's extensive experience as a productivity coach and her passion for time management shines through in every episode. She delivers fresh time management tips, expert insights, and a simple 5-step game-changer process! Don't miss out on this valuable resource for creating a life that exceeds what you imagined possible.

Baker Extraordinaire
Full of golden nuggets thanks Abigail. Picked up plenty that I've started putting into practice which is helping me already. Looking forward to the next episode!

Random Walk
Wise words. I very much enjoyed the podcast, and I agree that the acquisition of knowledge, (including self knowledge, which requires acquiring some resilience) is incredibly important and inextricably linked to self improvement.

Thank you

Schmolic
Thank you for sharing this persons story (Simon Coulson)! I learned this very same lesson myself earlier this year...

Chrissy
I know it sounds odd, but I listen to so many podcasts that make me feel like I'm back at school, and I am in the 'learning chair', which is a drudge. Abigail's sessions effortlessly engage me, in a refreshing and absorbing way.

Quirk Chris