Here are 8 things I learned about myself, business life in 2021.
1. Set Goals – Be flexible in your execution
I don't know about you, I like to start my New Year at FULL speed. Which up until 2021 has served me well. This year it meant I hit the wall (UK Lockdown 3/4) hard. I guess somewhere in the back of my mind I knew it wasn't going to be New Year – New Start, but the optimist in me had hoped it would be, which meant January was a whole lot of dusting off, getting back up and goal resetting.
2. Conversation Creates Connection
Although the year started like no other, a new social media kid (Clubhouse) came on the block which helped facilitate global conversations, connection and community in a way that no other social channel has been able to do before. While much of the World was in and out of lockdowns this platform enabled users to build relationships, do business, raise money for charity, share knowledge and expertise and helped me launch my new book, Time Management for Entrepreneurs & Professionals.
CLICK HERE to join the Productive Wellbeing Club on Clubhouse (we run a weekly room every Wednesday at 12:00 – 13:00 GMT)
3. Suzanne Shaw's 19 Hour run for H.O.P.E = Raised £10k for Samaritans
This year on the app Clubhouse, I met Suzanne Shaw (Singer from the band Hear'Say, Actress, Entrepreneur & all-around nice human) who was running 19 Hours to raise money for Samaritans, awareness for mental health & suicide prevention. I helped her keep a room open on the app for 19 hours so that she could tune into while she ran, coordinate people to moderate 19 hours of conversation, raise money and provide entertainment (music & comedy).
4. Launching a book in a Pandemic – With a social media app
In May I launched Time Management for Entrepreneurs & Professionals (the revised & substantially updated version of my first book). Since its launch, it is being read in 19 countries and 5 continents around the world from Austria to Australia, Thailand to Honolulu with the Kindle version due out early 2022. It's also been the book club read for The CEW Programme and copies were sent to the iWOW Leadership Academy Graduates of the Power Women Leadership Programme, Cohort 4.
5. Health is Wealth – Prioritise Yours
At the start of 2021, a dry patch on my forehead turned into a persistent non-healing legion. Which after many internet searches led to 150 calls to my GP Surgery (to get a call back) for an expert assessment. Fast forward through dermatology consultations, biopsies and assessments. I had day surgery in August to remove a BCC (basal cell carcinoma) from my forehead by an incredibly talented team of NHS Professionals. In December I was given the all-clear. I am sharing my experience to impress upon you the importance of prioritising your own health, had I not made those calls and persisted to get treated I'd still be sweeping my hair across my forehead and ignoring what my body was trying to tell me!
6. The benefits and lessons of being the boss
Running my own business meant I was able to take downtime to heal, just like the pandemic came out of the left-field so did this and it wasn't something I was fully prepared for. It gave me the push I needed to start creating programs & training that can run without me and improve our internal systems and processes.
7. Artists are my Mentors
In June I went to The Making of Rodin Exhibition at the Tate Modern and am so grateful I got to see The Thinker, The Kiss and his creative process.
"Patience is also a form of action." Rodin
In July I went to the Sophie Taeuber-Arp Exhibition at The Tate Modern and was blown away by her work and creative process.
"Only when we go into ourselves and attempt to be entirely true to ourselves will we succeed in making things of value, living things, and in this way help to develop a new style that is fitting for us."

Sophie Taeuber-Arp
On 19 October I went to the Yayoi Kusama: Infinity Mirror Rooms Exhibition at The Tate Modern for my Birthday and was hugely inspired by Yayoi Kusama story, journey, inspirations and work.
"Forget yourself. Become one with eternity. Become part of your environment." (Chandelier of grief).
I go to all of these exhibitions with my sister, who is the Head of the Art & Textiles Department at a London Secondary School, an incredibly talented artist (my own personal art educator) and a new mother to my amazing nephew.
8. Gratitude, Success, Self Reflection, Compassion & Resilience
2021 has felt like living in a washing machine on a long spin cycle. I am grateful for the challenges and the lessons they have brought, as well as for the rewards and the lessons they have brought.
One of my mentors describes success as the ability to handle more pleasure and more pain.
That as we become more successful we don't become immune to pain, but we do become better at handling it, seeing it for the teacher it is.
As I look back at 2021 as a whole I am able to recognise how much more resilient I am this year compared to last year and I take that with me into the new year.
Linkedin: Rethinking Productivity Weekly Newsletter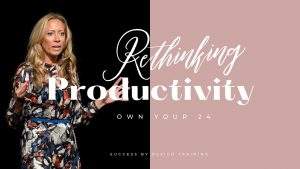 Our intention with this weekly newsletter is to share tips, tricks, leading-edge strategies, systems and science from around the world to help individuals and organisation change their relationship with time, improve their productivity, wellbeing, resilience and mental health.
As we move from 2021 into 2022 I look forward to sharing weekly updates (Every Friday) with you looking at our relationship with productivity, wellbeing, toxic time management, systems, strategies, self-leadership and ways to reclaim an hour a day using the 888 Formula.
CLICK HERE to view on Linkedin
See you next year. xoxo
P.s. To buy a copy of my book Time Management for Entrepreneurs & Professionals CLICK HERE
P.P.s. Here's 22 Productivity Tips shared in our Productive Wellbeing Club this year. CLICK HERE to read.
Time Management for Entrepreneurs & Professionals – CLICK HERE to buy a copy of Abigail's new book.
Sign up for our Weekly Newsletter – CLICK HERE 
Join our free online group The Productive Wellbeing Community for more tips, tools & strategies
Let's get social, find us on Instagram
We'd love to hear from you, is your business ready to consider a new approach Contact Us.